GROWING UP

Born Kenneth Brian Edmonds on April 10, 1958* in Indianapolis, Indiana. (* = from the Celebrity Almanac web site, supposedly information coming directly from Babyface, however, most reports list his birthday year as 1959.)



His father, Marvin, died of lung cancer in 1972. His mother Barbara worked at a chemical plant.



Two of his five brothers (Kevon and Melvin) formed the group After 7.



Face wrote his first song at age 11 for a young classmate, "But I never gave it to her," he comments. "Being so shy and naive, it was difficult for me to have any relationships with girls. I had no conversation. I had no rap. And when the girl moved on, I was devastated. My heart was broken and all those emotions had to go somewhere, so they went into song."



In an interview with Molly Meldrum (of the Regurgitation web site) in 1997, Babyface described his times in school when he scammed his way into meeting the Jackson 5, got the chance to open a concert for Curtis Mayfield, and the first time he got to sing with Stevie Wonder. Click here for details on these stories.




Face got his start playing in his brothers' high school band. After high school, he went on to join the groups Tarnished Silver, Manchild, Crowd Pleasers, April, and The Deele.



Kenneth Edmonds graduated from North Central High School in Indianapolis, Indiana in 1976. In 1998, he donated his first platinum record and diploma to the school, to be displayed in the student center.



"Initially I wanted to be Muhammed Ali. But then I got into a fight and I got my butt kicked, so I figured I could choose something else." If not for music, Kenny says, "The only other thing I could've possibly done was be a counselor. I like working with kids. I used to be a camp counselor, so I probably would've gone into that field."


PERSONAL INFO



Kenny is left-handed.



Kenny is a Democrat.



The following information is from the Celebrity Almanac web site:
Favorite movie: 'When Harry Met Sally'
Favorite actor: Robert DeNiro
Favorite actresses: Winona Ryder & Angela Bassett
Favorite television show: 'The Wonder Years'
Favorite song: "My Funny Valentine"
Favorite food: chilli
Favorite sporting activity: basketball
Favorite leisuretime activity: watching movies
Favorite hobby: skiing
Respected historical figure: Martin Luther King

Humbly, Kenny doesn't listen to his own songs, even on the radio: "I don't listen to any of my records once I'm done with them. If something comes on the radio I turn the station. Mostly, I listen to talk radio."



Babyface prefers to soak in the tub until he is wrinkled like a prune over a shower. "It's not right until you're wrinkled," he says.



First marraige to Denise ended in divorce in the early 1980's.



Married to Tracey McQuarn on September 5, 1994, whom he first met when she auditioned for a part in his music video for "Whip Appeal". She got the part, but missed the shoot because of chicken pox. When auditions came again for his next song's video ("My Kinda Girl" in 1990), she asked for a second chance - and she got it. Her and Kenny then had their first date at the Cheesecake Factory in Los Angeles. She is currently the President of Yab Yum Entertainment (named for the Japanese goddess of love).



With wife Tracey, they had a son, Brandon Kenneth Edmonds, in August 1996 (the first child for both of them). Face has since expressed an interest in putting together a children's music album, as his son gets older. Both have said they'd like one or two more children - preferrably a daughter. Tracey says, "I wanted a boy and a girl. I wanted the boy first. So I was lucky. If I have another boy, I may try one more time. But I'm definitely stopping at three."


Left: The outside of Kenny and Tracey's Holmby Hills home.
Right: The foyer.

In 1997, Kenny and Tracey purchased a 15,000-square foot home in the exclusive Holmby Hills area of Los Angeles. They also reportedly have homes in Lake Tahoe and New York City.



In addition to the Boarder Baby Project, Babyface also contributes to the United Negro College Fund and the VH-! Save The Music campaigns.



Babyface has a strong liking for video games and junk food - one of his favorite snacks are Boston Baked Beans.



Kenny rarely craves the spotlight, or publicity: "I'm often told that in Europe people take offense when you don't come and promote things as an artist, " he says, "but what they don't understand is that I don't do it here. Nothing personal. If it was my choice, I would do the record and that would be it."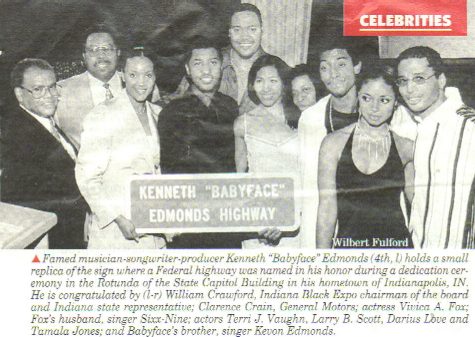 On July 16th, 1999, a 20-mile stretch of Interstate-65 in Indianapolis, Indiana (his hometown) was renamed "Kenneth 'Babyface' Edmonds Highway" in his honor.



On March 26, 2001, Tracey gave birth to Kenny's second son, Dylan Michael Edmonds. He weighed in at 7 pounds, 1 ounce. Ironically, Babyface's former partner L.A. Reid also became a dad again as his wife also gave birth (to a daughter) the same day.



CAREER INFO



When with the Deele, he was nicknamed "Babyface" by Parliament Funkadelic's Bootsy Collins. One day when Kenny walked into the studio (rumored to be Ultrasuede Studios in Cincinatti, Ohio), Bootsy said, "What's up, Babyface?," but he was the only one who didn't think it was funny. As a practical joke, Deele lead singer Darnel "Dee" Bristol introduced him onstage as Babyface. "All the nights before, nobody came backstage asking for Kenny Edmonds," he says. "But all of sudden I had a ton of girls coming back asking for Babyface." The name has since stuck. He also goes by the nickname "Face".



Stefan in Sweden, who has his own 'Miami Vice' web site, says that the Deele's "Body Talk" was used in the first episode of the 80's show during a scene where the character Tubbs was introduced on the dance floor.



Along with former partner L.A. Reid, Kenny co-owns the Atlanta-based record label LaFace and recording studio Studio LaCoCo, which serves as the production house for much of LaFace Records' recording acts.



In 1994, he volunteered to serve as the spokesman for the Boarder Baby Project - a charity dedicated to helping the thousands of newborns left each year in maternity wards. The Boarder Baby Project established The Little Blue House to provide transitional housing for the abandoned children in a stable, healthy, and loving environment until they are adopted. To show his commitment to his new title, he gave his first-ever live performance as a solo artist (on November 12, 1994) in a benefit for The Little Blue House. Appearing at a black-tie gala in Washington, DC with special guests After 7 and El DeBarge, Babyface raised a record-setting amount of funds for the organization.



On December 24, 1994, Face began his only concert tour as a solo artist in Minneapolis, Minnesota, headlining with Boyz II Men.



He moved back to the Los Angeles area in the mid-to-late 90's and had a new recording studio constructed - Brandon's Way Recording, named after his son.



Don J. in California says Babyface's cover of Joe Cocker's "You Are So Beautiful" (from the album 'For The Cool In You') was played quite frequently in the background of the daytime soap opera "Days Of Our Lives." The song has been played on several episodes as "the favorite song" of the characters Mike and Carrie. Face recorded the song for his album after hearing the Joe Cocker version at a friend's wedding and realizing what a beautiful song it was.



In 1997, Face received 12 Grammy award nominations, tying the all-time record for one year, previously set by Michael Jackson.



He describes his musical role as such : "I used to say, 'I'm a writer first, producer second and an artist last.' I view it differently now: I'm all of those things. It's just as much my artistry when I write and produce with Madonna as when I do my own record."



Face has performed as a musical guest on many daytime and late night talk shows including The Tonight Show with Jay Leno, The Rosie O'Donnell Show, Oprah Winfrey, Late Night with David Letterman, 'The View', The Arsenio Hall Show, and BET's Planet Groove.



In November of 1997, The Whispers recorded a tribute album to Babyface titled 'Songbook Volume 1 - The Songs Of Babyface' (Interscope Records). It contains songs written/co-written by Babyface. One song included is "My, My, My", originally recorded by Johnny Gill. The sax solo on the Whispers' version is by Gerald Albright, who also did his own version of "My, My, My" in 1990. Other songs on the album are "Whip Appeal", "I Love You, Babe", "Can We Talk", "Exhale (Shoop, Shoop)", "You're Makin Me High", "For The Cool In You", "Seven Whole Days", "Two Occasions", and "Soon As I Get Home". The notes on the album give this tribute to Babyface: "Finally, a very special thanks is deserved by a young man blessed by unusual gifts overflowing, with which he has created tidal waves of musical pleasures for the world to enjoy. His accomplishments as a songwriter, recording artist and record producer are as legendary as the artists he produces."



Face has had more non-classical Grammy nominations than any other person in the decade of the 1990's.



Babyface's name is mentioned in the songs:
"Basketball Jones" by Barry White & Chris Rock (from the 'Space Jam' soundtrack, Warner Sunset/Atlantic Records, 1996)
"Big Shot" by Salt N' Pepa (from the album 'Very Necessary, Next Plateau Records, 1993)
"Das Da Way We Like 'Em" by TLC (from the 1992 LaFace album 'Ooooooohhh...On The TLC Tip')
"Loungin'" by LL Cool J (from the album 'Mr. Smith', Def Jam Records, 1995)
"Nice And Slow" by Redhead Kingpin (from the album 'The Album With No Name', Virgin Records, 1991)
"Slow Jams" by Quincy Jones Featuring Babyface and Tamia with Portrait and Barry White (from the Quincy Jones album 'Q's Jook Joint', Qwest Records, 1995)

Babyface, but not Babyface: The late 70's spawned a band called Babyface long before Kenny Edmonds took over that moniker, but their existence was short-lived. Also from the 70's was a band called Wing & A Prayer Fife & Drum Corps that released an album titled 'Babyface'. An artist named Emiliaz released a track called "Babyface". A group called Bronx Massive recorded "Babyface Tribute Part 1". The band U2 released a song titled "Babyface" (off their 1993 'Zooropa' album) that had nothing to do with Kenny either.



Babyface serves on the Board Of Directors of the internet site OneNetNow.com.



Babyface teamed up with David Foster and Carol Bayer Sager to create Tonos.com.



Kenny's favorite song of his own to sing is "Where Will You Go".



Babyface has expressed interest in working with Paul McCartney, Sting, and Terrence Tret D'Arby (in an online chat, he also mentioned Elvis Presley!).



A majority of Kenny and Tracey's companies are housed in the six story Edmonds Tower building in Hollywood, California. (See below for address information.)


E-MAIL, ADDRESSES & PHONE NUMBERS


E-MAIL:
ONE NET NOW (Board Of Directors):
babyface@onenetnow.com

COMPANIES:
BRANDON'S WAY RECORDING
751 N. Highland Ave
Los Angeles, CA 90038
E2 FILMWORKS
1635 North Cahuenga Boulevard, 5th Floor
Los Angeles, California 90028
(213) 658-6750
ECAF PRODUCTIONS, INC.
8436 West 3rd Street
Los Angeles, CA 90048
(323) 651-4989
EDMONDS ENTERTAINMENT
1635 North Cahuenga Boulevard, 5th Floor
Los Angeles, California 90028
(213) 658-6750
EDMONDS MANAGEMENT
1635 North Cahuenga Boulevard, 5th Floor
Los Angeles, California 90028
(213) 658-6750
EDMONDS MUSIC PUBLISHING
1635 North Cahuenga Boulevard, 4th Floor
Los Angeles, California 90028
(213) 655-6440
EDMONDS RECORD GROUP
1635 North Cahuenga Boulevard, 6th Floor
Los Angeles, California 90028
(213) 860-1520 / (213) 860-1537 [fax]
NU AMERICA RECORDS
(formerly called Joe Lies Records)

THE TRACKEN PLACE
1635 North Cahuenga Boulevard, 3rd Floor
Los Angeles, California 90028


FAN CLUB:
MAILMANN
14755 Ventura Boulevard I-710
Sherman Oaks, California 91403

MANAGEMENT:
HERVEY & CO.
Ramon Hervey
Atlanta, GA
(404) XXX-XXXX

PUBLICITY:
DAVIS & BAIN
Raymone Bain
Washington, D.C.
(202) 775-1958 / (202) 872-0896 [fax]

RECORDING LABEL:
ARISTA RECORDS

INFORMATION INPUT
One Face fan notes that he saw Babyface make a cameo in an episode of the television show Martin and wondered if he had appeared in any other shows. If you have any other information about Babyface (personal OR career), please feel free to send it in so we can continue to update this section! Thanks!